Configuring Google Gmail to use Apex Secure POP3 Email
Google can be used to check your Apex email. To do this, log into your Gmail account and follow these steps:
1) At the top of the window, click "Settings".
2) Under settings, click on the "Accounts" tab.
3) Near the middle of the listed options, click on "Add another email account".
4) Enter in your Apex email address, (i.e. yourname@yourdomain.com), and click "Next step".
5) Enter in your Apex email username and password, and make sure you use the following values:
POP Server: mail.apex-internet.com
Port: 995
Always use a secure connection (SSL) when retrieving mail. : Checked
Then click "Add Account".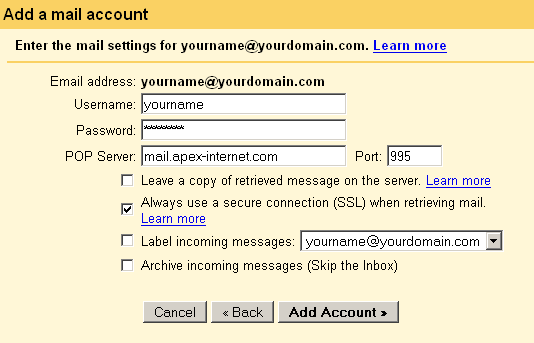 6) We recommend selecting the option for "Yes, I want to be able to send mail as..." so that you can send email as your Apex domain account. Click "Next Step" to continue and follow the additional steps below. Otherwise, you are finished and you will only be able to retrieve email (but only send as your Gmail address).

Enter in your name and click "Next Step".
Follow the next step to verify your email account.
Enter in the confirmation code and click "Verify" to finish!
7) Now you should see Gmail start to download all of your current and new email from your Apex account, directly to your Gmail Inbox. You are finished!